Admission Policy
The ideal Nagasaki Junior College student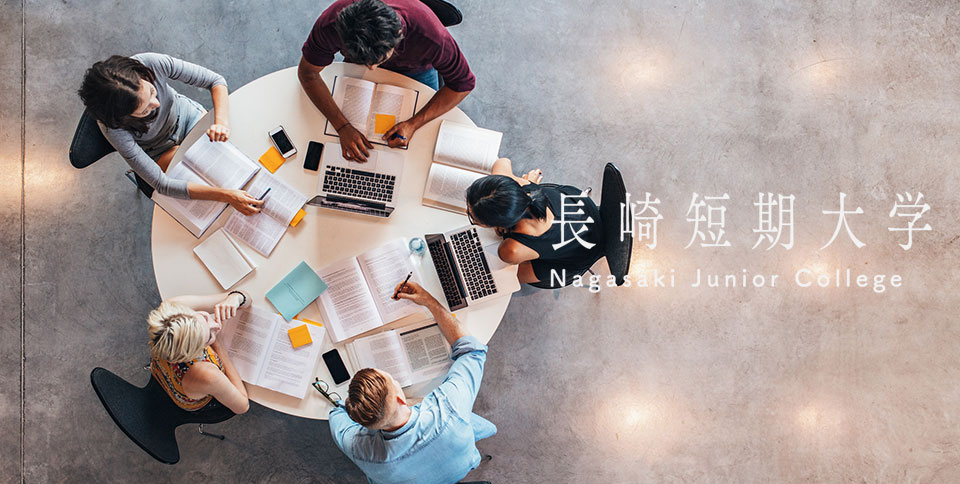 Nagasaki Junior College admits the following kinds of people in order to provide an education in line with its administration's curriculum formation and implementation policies, which aim to cultivate human resources defined by graduation and diploma conferral policies based on the university's educational philosophy and goals.
Those who have received a broad secondary education.
Some departments may require further studies to qualify for enrollment.
Those who have a department and course in mind where they would like to study, and demonstrate an interest in applying the knowledge, skills, and mindset acquired there in their regional society.
Those who possess an interest and desire for university education and are making efforts to further develop their knowledge, skills, thinking abilities, judgment, and expressive abilities towards study at a university.
Those who can take the initiative to improve their own abilities prior to enrollment to ensure a smooth transition to university life.
Those who have actively participated in club or volunteer activities, or sought out qualifications or certifications up through their secondary education.
In order to appropriately select enrollees with the abovementioned traits, Nagasaki Junior College employs a variety of entrance examinations to multifacetedly and comprehensively evaluate the qualities and abilities of applicants.
---
◎ Very strongly related
◯ Strongly related
△ Related
The ideal student for the Food Department's Nutritionist Course
| Suitability for the university | Knowledge/Skills | Thinking ability/Judgment/Expressive ability | Independence/Cooperativeness |
| --- | --- | --- | --- |
| Those seeking to gain a better understanding of humanity and have a desire to engage in active learning. | | ◯ | ◎ |
| Those with an interest in food and nutrition who can consider topics from a scientific perspective. | ◯ | ◎ | |
| Those with an interest in regional issues and contributing to regional development. | ◯ | ◯ | ◯ |
| Those who can learn in collaboration with diverse groups of people | | ◯ | ◎ |
| Those who want to excel as nutritionists | ◯ | ◯ | ◎ |
The ideal student for the Food Department's Confectionery Course
| Suitability for the university | Knowledge/Skills | Thinking ability/Judgment/Expressive ability | Independence/Cooperativeness |
| --- | --- | --- | --- |
| Those with a desire to contribute to their regional society through food. | | ◯ | ◯ |
| Those with an interest in confectionery and a desire to actively study the knowledge and skills related to their production. | | | ◎ |
| Those of sound body and mind who can manage the hygiene of their surroundings. | | ◯ | |
| Those with a sense of empathy who can collaborate with others. | | | ◎ |
| Those who have participated in club or volunteer activities, or sought out qualifications or certifications related to their specialized studies up through their secondary education. | ◯ | | ◯ |
The ideal student for the Childcare Department's Childcare Course
| Suitability for the university | Knowledge/Skills | Thinking ability/Judgment/Expressive ability | Independence/Cooperativeness |
| --- | --- | --- | --- |
| Those who have received a broad secondary education. | ◎ | ◯ | △ |
| Those who are concerned about the raising and education of children, and can make efforts to further develop their thinking abilities, judgment, and expressive abilities. | ◯ | ◎ | ◯ |
| Those with the ability to develop deep empathy and humanity and can cooperate with others during their studies. | △ | ◯ | ◯ |
| Those who are concerned about environments surrounding children and can make efforts to contribute towards their development at the local level. | ◯ | △ | ◎ |
| Those with in interest in children who can approach their studies with sincerity. | △ | △ | ◎ |
The ideal student for the Childcare Department's Care and Welfare Major
| Suitability for the university | Knowledge/Skills | Thinking ability/Judgment/Expressive ability | Independence/Cooperativeness |
| --- | --- | --- | --- |
| Those who have received a broad secondary education and show great consideration and concern for others. | △ | ◎ | ◯ |
| Those with an active desire to learn knowledge and skills related for care and welfare. | ◎ | ◯ | △ |
| Those who have experience in actively engaging in club or volunteer activities. | ◯ | △ | ◎ |
| Those with the desire to take the initiative to improve their own abilities prior to enrollment | ◯ | △ | ◎ |
| Those who want to contribute to their community and society as a caregiver or welfare worker. | △ | ◎ | ◯ |
The ideal student for the Global Communication Department
| Suitability for the university | Knowledge/Skills | Thinking ability/Judgment/Expressive ability | Independence/Cooperativeness |
| --- | --- | --- | --- |
| Those who have received a broad secondary education. | ◎ | ◯ | ◯ |
| Those who actively engaged in the acquisition of a foreign language (such as by acquiring certifications or qualifications). | ◎ | △ | △ |
| Those with an interest in English or Asian languages who have a desire to improve their language and communication skills. | △ | ◯ | ◯ |
| Those with experience in active involvement in community activities and have a desire to apply the knowledge and skills they learn towards their regional society. | △ | ◯ | ◎ |
| Those who have a desire to acquire occupational knowledge and professional skills to become more independent. | ◎ | △ | ◯ |
HOME